"Those Fabulous 50's and 60's"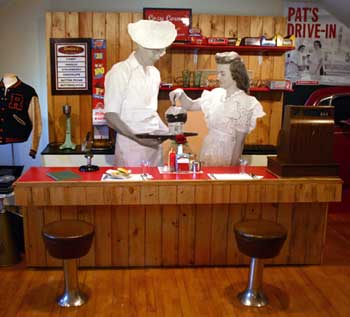 The centerpiece of the 50ís and 60ís exhibit is a reconstruction of the counter at Cozy Corner, with bigger than life cutouts of owners Ed ďBazzĒ Modrzynski and his wife Clara. The restaurant at the corner of First Street and Orchard in Rogers City was the communityís most popular hangout for teenagers and young adults during the 50ís and 60ís.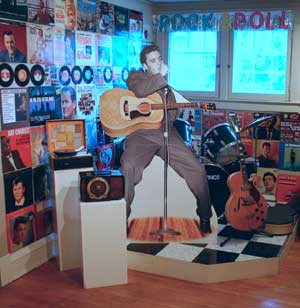 Music was one of the defining characteristics of the 1950ís and 60ís, and people in the Rogers City area listened to an interesting assortment of music. WHAK, the local radio station that broadcast from sunrise to sunset was playing a mix of big band music, country-western, and polkas, but shied away from the rock and roll that the younger set wanted to listen to. When the sun went down, their radios were usually tuned to WLS in Chicago, or some other powerful ďclear channelĒ station playing the latest rock and roll music.
Elvis takes to the bandstand in our exhibit, surrounded by records, record players, radios, and tape recorders from the period.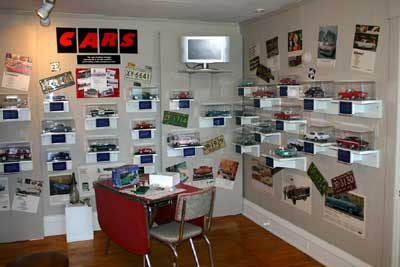 American automobiles changed dramatically during the 50ís and 50ís, and in doing so they changed our lives. The exhibit celebrates cars with a major collection of diecast models representing each year from 1950 through 1969. Mixed in with the models are automobile ads and license plates from the period. Other period automobile ads are playing on a television set in the center of the exhibit.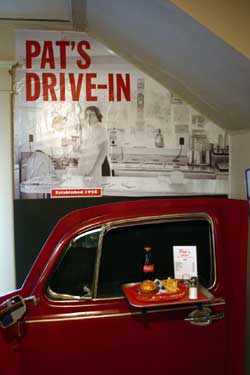 As cars played increasingly important roles in our lives, drive-in theaters and drive-in restaurants became popular. In the Rogers City area, the first drive-in restaurant was ďPatís Drive-In,Ē located on US-23 in the building that currently houses Chi Chiís restaurant. We celebrate Patís Drive-In with a unique display featuring the driverís door from a Volkswagen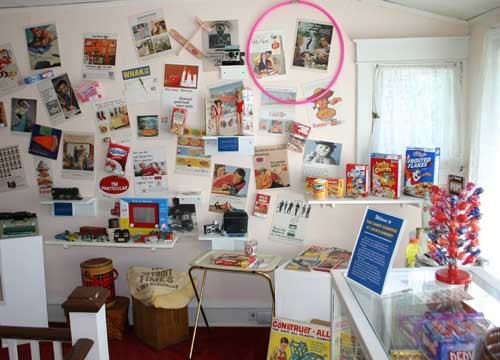 Consumer products grew exponentially during the 1950ís and 60ís and we pay homage to both the new products and those that became reached new heights of popularity during the period. Youíll find samples of food products, toys, games, electronics, clothing, and much more. A highlight of the consumer products section of our exhibit is a candy counter similar to the one at Jackís Bakery during the 50ís and 60ís, stocked with nostalgic candies from the period.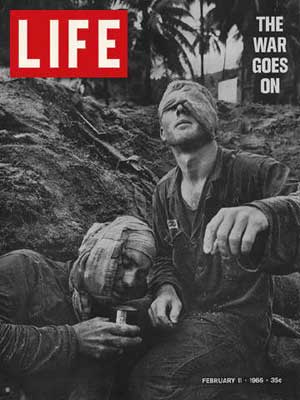 As great as the 1950ís and 60ís were, there was also a dark side to the two decades. At the end of the exhibit, a small display provides a measure of balance by pointing out some of the tragic aspects of the period, including the wars in Korea and Vietnam, the civil rights movement, the increase in the use of drugs, and the sinkings of the Carl D. Bradley and Cedarville.
Military Uniform Exhibit


The Larke
Bedroom

Country Store